Suggest
Stylish 42
n̸i̸c̸k̸n̸a̸m̸e̸Copy
Stylish 53
n̤̈ï̤c̤̈k̤̈n̤̈ä̤m̤̈ë̤Copy
Random symbol
Stylish 9
§ɴⒾ¢кŃąM⃣Ⓔ︵⁹²Copy
Stylish 10
♥ⓝı☪kи4Ⓜᴇ︵⁹Copy
Symmetrical character
Stylish 9
ⓃⒾⒸⓀⓃⒶⓂⒺᴾᴿᴼシCopy
Stylish 10
ɴιcκɴᴀмᴇ︵ᵏ¹¹Copy
Stylish 17
ɳɩͼƙɳλɰɛ︵²ᵏ⁹Copy
Stylish 74
ミ★刀ノcズ刀ムʍ乇★彡Copy
Stylish 86
★彡nί☾ƙn@ɱ☰彡★Copy
Full Stylish Name
Stylish 1
๖ۣۜN๖ۣۜI๖ۣۜC๖ۣۜK๖ۣۜN๖ۣۜA๖ۣۜM๖ۣۜECopy
Stylish 18
๖ۣۜN๖ۣۜI๖ۣۜC๖ۣۜK๖ۣۜN๖ۣۜA๖ۣۜM๖ۣۜECopy
Stylish 27
N꙰I꙰C꙰K꙰N꙰A꙰M꙰E꙰Copy
Stylish 28
n̫i̫c̫k̫n̫a̫m̫e̫Copy
Stylish 30
N͙I͙C͙K͙N͙A͙M͙E͙Copy
Stylish 31
ñ̰ḭ̃c̰̃k̰̃ñ̰ã̰m̰̃ḛ̃Copy
Stylish 32
N͜͡I͜͡C͜͡K͜͡N͜͡A͜͡M͜͡E͜͡Copy
Stylish 35
N⃟I⃟C⃟K⃟N⃟A⃟M⃟E⃟Copy
Stylish 36
N҉I҉C҉K҉N҉A҉M҉E҉Copy
Stylish 37
n͉̠̙͉̗̺̋̋̔ͧ̊i̞̟̫̺ͭ̒ͭͣc͔ͣͦ́́͂ͅk̲̱̠̞̖ͧ̔͊̇̽̿̑ͯͅn͉̠̙͉̗̺̋̋̔ͧ̊a̘̫͈̭͌͛͌̇̇̍m̘͈̺̪͓ͩ͂̾ͪ̀̋e̮̟͈̣̖̰̩̹͈̾ͨ̑͑Copy
Stylish 38
N⃗I⃗C⃗K⃗N⃗A⃗M⃗E⃗Copy
Stylish 39
N͛I͛C͛K͛N͛A͛M͛E͛Copy
Stylish 40
N⃒I⃒C⃒K⃒N⃒A⃒M⃒E⃒Copy
Stylish 42
n̸i̸c̸k̸n̸a̸m̸e̸Copy
Stylish 47
N̺͆I̺͆C̺͆K̺͆N̺͆A̺͆M̺͆E̺͆Copy
Stylish 48
N͟I͟C͟K͟N͟A͟M͟E͟Copy
Stylish 49
n̲̅i̲̅c̲̅k̲̅n̲̅a̲̅m̲̅e̲̅Copy
Stylish 50
N⃣I⃣C⃣K⃣N⃣A⃣M⃣E⃣Copy
Stylish 51
n̾i̾c̾k̾n̾a̾m̾e̾Copy
Stylish 52
[̲̅n̲̅][̲̅i̲̅][̲̅c̲̅][̲̅k̲̅][̲̅n̲̅][̲̅a̲̅][̲̅m̲̅][̲̅e̲̅]Copy
Stylish 53
n̤̈ï̤c̤̈k̤̈n̤̈ä̤m̤̈ë̤Copy
Stylish 54
NཽIཽCཽKཽNཽAཽMཽEཽCopy
Stylish 56
N҉I҉C҉K҉N҉A҉M҉E҈Copy
Stylish 57
N⃜I⃜C⃜K⃜N⃜A⃜M⃜E⃜Copy
Stylish 59
N͎I͎C͎K͎N͎A͎M͎E͎Copy
Stylish 61
N̐I̐C̐K̐N̐A̐M̐E̐Copy
Stylish 62
NྂIྂCྂKྂNྂAྂMྂEྂCopy
Stylish 63
N༶I༶C༶K༶N༶A༶M༶E༶Copy
Stylish 67
N⃒I⃒C⃒K⃒N⃒A⃒M⃒E⃒Copy
Stylish 65
N∞I∞C∞K∞N∞A∞M∞E∞Copy
Stylish 66
N͚I͚C͚K͚N͚A͚M͚E͚Copy
Stylish 67
N⃒I⃒C⃒K⃒N⃒A⃒M⃒E⃒Copy
Stylish 68
NཽIཽCཽKཽNཽAཽMཽEཽCopy
Stylish 69
N༙I༙C༙K༙N༙A༙M༙E༙Copy
Stylish 70
N͓̽I͓̽C͓̽K͓̽N͓̽A͓̽M͓̽E͓̽Copy
Stylish 73
N̝I̝C̝K̝N̝A̝M̝E̝Copy
Stylish 75
N҈I҈C҈K҈N҈A҈M҈E҈Copy
Stylish 77
NིIིCིKིNིAིMིEིCopy
Stylish 79
N͒I͒C͒K͒N͒A͒M͒E͒Copy
Stylish 80
N̬̤̯I̬̤̯C̬̤̯K̬̤̯N̬̤̯A̬̤̯M̬̤̯E̬̤̯Copy
Stylish 85
N̥ͦI̥ͦC̥ͦK̥ͦN̥ͦḀͦM̥ͦE̥ͦCopy
Stylish 87
N͟͟I͟͟C͟͟K͟͟N͟͟A͟͟M͟͟E͟͟Copy
Stylish 89
N̆ĬC̆K̆N̆ĂM̆ĔCopy
Stylish 91
N̆ĬC̆K̆N̆ĂM̆ĔCopy
Stylish 93
N̤̮I̤̮C̤̮K̤̮N̤̮A̤̮M̤̮E̤̮Copy
Stylish 94
N⃘I⃘C⃘K⃘N⃘A⃘M⃘E⃘Copy
Stylish 95
N᷈I᷈C᷈K᷈N᷈A᷈M᷈E᷈Copy
Stylish 96
N͆I͆C͆K͆N͆A͆M͆E͆Copy
Stylish 100
n̠i̠c̠k̠n̠a̠m̠e̠Copy
Stylish 101
N̸͟͞I̸͟͞ㅤC̸͟͞K̸͟͞N̸͟͞A̸͟͞M̸͟͞E̸͟͞Copy
Stylish 102
刀̝ㅤノ̝c̝ズ̝刀̝ㅤム̝ʍ̝乇̝Copy
Are you tired of your boring and generic nickname? Looking for a unique and cool name that truly represents your style? Look no further! CoolNickname has got you covered with the best nicknames and names generator.
Top 50 Cool Nickname
How Does CoolNickname Work?
CoolNickname's name generator is incredibly simple and intuitive to use. Just follow these three easy steps and unlock a world of creative possibilities:
Step 1: Enter a Keyword To get started, simply enter your name or any keyword that reflects your interests, hobbies, or desired style. This keyword will be the basis for generating a list of relevant names and nicknames.
Step 2: Let the Generator Work Its Magic Once you've entered your keyword, CoolNickname's powerful generator will take over. Within seconds, it will utilize an advanced algorithm to generate a comprehensive list of stylish and attention-grabbing names that are tailored to your preferences.
Step 3: Choose Your Favorite After the generator has done its job, you'll be presented with a wide range of options to choose from. Browse through the list and select the name that resonates with you the most. If you can't decide, you can always mix and match different names or customize them further – that's where the real fun begins!
Exploring Different Name Styles
CoolNickname understands that everyone has their own unique style and preferences when it comes to names. That's why we offer a wide range of name styles to choose from. Here are a few popular options to get you started: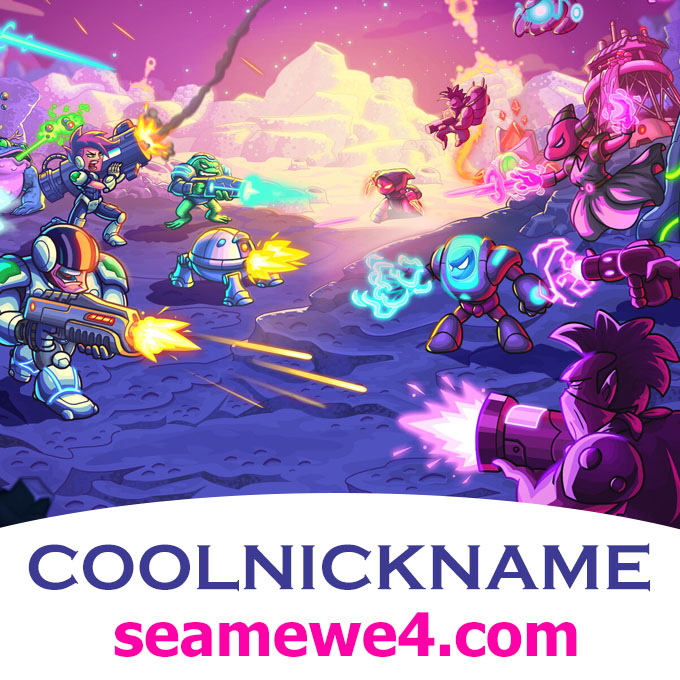 Badass and Edgy Names
If you want a name that exudes confidence and stands out from the crowd, consider opting for a badass and edgy name. These names are bold, strong, and perfect for individuals who want to make a statement.
Cute and Adorable Names
For those who prefer a softer and more whimsical vibe, cute and adorable names are the way to go. These names evoke feelings of sweetness, charm, and innocence. They are perfect for individuals who want to add a touch of playfulness to their persona.
Professional and Sophisticated Monikers
If you're looking for a name that exudes professionalism and sophistication, consider choosing a moniker with a refined and elegant style. These names are perfect for individuals who want to make a lasting impression in the business world or in any formal setting.
Whether you're a gamer, a social media influencer, or just someone who wants a catchy name, CoolNickname has the perfect style to suit your needs.
Customization Options
One of the best features of CoolNickname is the ability to customize your chosen name even further. Here are some ways you can make your name even more unique:
Tweak the Spelling
Add a creative twist to your name by tweaking the spelling. You can substitute letters with numbers or symbols, or simply alter the spelling to make it more distinctive.
Add Special Characters
Special characters can add flair and personality to your name. Consider using symbols like asterisks, hashtags, or even emojis to make your name truly stand out.
Combine Words
Get truly creative by combining multiple words to create a one-of-a-kind name. This allows you to showcase different aspects of your personality or interests in a single moniker.
The possibilities for customization are endless, and the more you play around with the options, the more unique and personalized your name will become.
Say Goodbye to Generic Nicknames
Gone are the days of settling for generic nicknames that fail to capture your true essence. With CoolNickname, you have the power to be a trendsetter and leave a lasting impression wherever you go. By creating a unique and personalized name, you can stand out from the crowd and showcase your individuality.
FAQs
Can I use CoolNickname for free? Yes! CoolNickname's name generator is completely free to use. Simply visit our website and start creating the perfect nickname or name today.
Are the names generated by CoolNickname copyrighted? No, the names generated by CoolNickname are not copyrighted. They are created based on your input and preferences, allowing you to have complete ownership of the name.
Can I use the names generated by CoolNickname for my social media handles? Absolutely! The names generated by CoolNickname are perfect for social media handles, gaming usernames, or any online platform where you want to showcase your individuality.
Can I change my name later if I want to? Of course! The beauty of using CoolNickname is that you have the ability to create and customize as many names as you like. If you ever want to change your name, simply go back to the generator and create a new one.
Are the names generated by CoolNickname SEO-friendly? CoolNickname takes SEO into consideration when generating names. While we can't guarantee that every name will be SEO-optimized, the generator aims to provide unique and memorable names that can help you stand out in online searches.
Can I use CoolNickname to generate names for my business? Certainly! CoolNickname's generator is a great tool for creating business names that are catchy, memorable, and unique. It can help you find the perfect name that fits your industry and target audience.
Conclusion
CoolNickname is the ultimate destination for anyone seeking the best nicknames and names. With our powerful generator and endless customization options, you can create a name that is truly unique and represents your style. Don't settle for ordinary – choose CoolNickname and be extraordinary! Visit our website today and unleash your creativity.